Indiana Fence Contractor that Puts Customer Satisfaction First
Indiana is a beautiful area and we are dedicated to making it even more beautiful.
We have worked closely with the residents of Indiana for years to enhance their homes, secure their companies and enclose their properties. It takes a lot of skill to install a fence properly in Indiana because every fence has to blend in with its environment. Our fencing specialists have many years of experience creating the perfect fencing solution for Indiana and creating happy customers every step of the way.
Types of Fencing for
indiana

Residents & Business Owners

indiana

can choose between our 4 most popular styles of fencing for your home or business.

Mr Fence

sells and installs all types of fencing ... or you can purchase the fence and install it yourself. The most popular types of fence in the

indiana

area are: Aluminum Fence, Vinyl Fence, Chain Link Fence, and Wood Fence.
indiana

Aluminum Fence

Aluminum fence is our most popular choice for indiana residents. It looks great, is durable, and comes with a lifetime guarantee - so you can have the peace of mind that comes with a fence of this quality.

Aluminum Fence
indiana

Vinyl Fence

Vinyl fencing is another great option for indiana residents who are looking for a great looking fence that is maintenance free and long-lasting. Vinyl fence offers many options and accessories to make it uniquely yours.

Vinyl Fence
indiana

Chain Link Fence

Chain link fence is a great solution for a number of specific situations. Relatively inexpensive and very durable, indiana residents have been turning to chain link as their fence of choice for decades.

Chain Link Fence
indiana

Wood Fence

Another great option for indiana residents is a beautiful wood fence. Great for privacy, wood fences are a great way to beautify your property while adding security and privacy.

Wood Fence
Fence Installation Options
Whether you would like your fence installed by our professional installers or you'd like to do-it-yourself, we work with homeowners and business owners to make each fencing project easy and successful.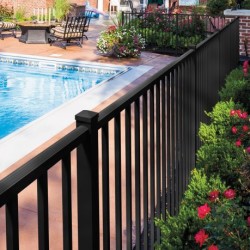 Professional Installation
Fences in indiana
We have installed many fences in and the surrounding area. We are familiar with local codes that relate to fences and we understand the climate and weather - to help you choose the best fence and to install it in such a way that will last over time.
DIY Installation
Fences in indiana
Many fences are installed by homeowners and handymen. Our fence experts can help you plan and purchase your fence and give you tips to set you up for success so that you will enjoy your fence for many years to come.
indiana

- Pinterest Board
Explore our indiana board on Pinterest. We have collected hundreds of pins, photos, and links to useful articles relating to indiana and we've created a bunch of our own as well. We've even thrown in a few pins of some of our fence projects in just for good measure.
You Will Find:
Photos of

indiana

Useful links related to

Examples of some of our

fence projects.
Other "stuff" that residents of

might find interesting.
Ready to Get Started?
We have consultants who can answer all your questions about installing fences in in.
Residential Or Commercial Fences, The Choice Is Yours
The most common type of residential fence is the backyard fence. They are often made from aluminum, vinyl, wood or chain link, but there are so many other types of fences to be found in a neighborhood.
Residential fencing can:
Provide beauty as well as enhanced security
Ornamental fencing is normally used around high value homes that need a bit of extra security. These fences are often made from aluminum, wrought iron, stone or brick because of those material's durability and eye catching beauty.
Keep your children and pets safe
Backyard fences can be made from almost anything, although vinyl, chain link, and wood seems to be the most prevalent. These fences are perfect for keeping your children safe while keeping unwanted visitors and animals out.
Block unwanted attention
Everyone likes to get away from time to time, but the close proximity of your neighbor's home may make that impossible. A solid privacy fence made from quality vinyl or lumber will protect your privacy, while increasing your home's value.
Provide a safe environment for your pool
Pools are extremely dangerous for young children so laws have been passed in most states to require pool fencing. You need a pool fence that you can see through, that provides a secure entry, and that can't be climbed on. There are height and installation requirements, as well. Aluminum, vinyl, and chain link are very popular choices for pool fencing, considering their open weave and secure design.
Mark the boundaries of your property
Picket fences and split rail fences are perfect for this role. They are an affordable option if you need to cover a lot of area, plus they look great in a residential setting. Many homeowners associations actually require this type of fence because of the aesthetic appeal.
Commercial Fences
Commercial fencing uses some of the same types as residential but it has a different focus. Each type of residential fence is primarily focused on one job. You need a privacy fence to block line of sight or you need a pool fence to protect your backyard pool. When you install a fence for your business it has to fill multiple functions, such as:
Upgrading your security
A strong fence is a basic component of any security setup. Some companies may just need a chain link fence to make entry more difficult, but others can combine barbed wire and security cameras to create a more formidable barrier.
Keeping your liability to a minimum
Some companies have areas of the property that may be restricted or unsafe. A fence will clearly mark these areas so people will have an unmistakable warning of where they shouldn't go.
Give your clients or employees their privacy
Business people need their privacy for a variety of reasons. Take a divorce attorney for example. Their clients may not want anyone to know that they have been visiting an attorney's office and a wooden privacy fence can prevent that.
Attract business
Perception is very important in a commercial setting. No matter how strong or well designed your fence is, potential clients could be turned away if it looks ugly. A commercial fence needs to make you look like a professional, not a prison guard.
The Indiana Difference
As a locally owned and operated business, we take great pride in offering our clients a high level of customer satisfaction and exceptional work quality. Our fence specialists help people throughout the Indiana area with full service fence installation as well as repair and maintenance. We work on fence types ranging from aluminum fences, vinyl fence, wooden fences, chain link, and commercial or residential secure entry.
Quality work, satisfied clients and competitive prices are the key concepts that separate Mr. Fence from other local fencing experts. Our close-knit, experienced team of project managers, fence installation experts, wood craftsmen, and customer service representatives are qualified and ready to meet all of your fencing needs throughout the Indiana area. If you would like to learn more about our services and products, please call us so we can discuss the details of your project and get you a free estimate.
Get A Free Estimate From The Fencing Experts at Mr. Fence
We guarantee that any job, big or small, will be completed quickly and efficiently to keep down the costs for our clients. So whether you need a small fence repair, fence demolition or want a brand new fence installed, call the leading fence company in Indiana, Mr. Fence.
CLICK Here to Call